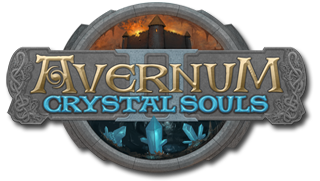 Spiderweb Software returns once again to its epic creation, to tell a story of imprisonment, war, and a desperate fight for survival. Avernum 2: Crystal Souls is the second chapter in this classic indie fantasy role-playing saga, the tale of desperate exiles and their fight to keep their home.
Avernum 2: Crystal Souls features:
Epic fantasy adventure with over 40 hours of gameplay.
An enormous underworld, with multiple nations and alien cultures.
Over 100 towns and dungeons.
Three separate game-winning quests. There are many ways to fight the invaders. Do just one of them or all three!
Unique races and settings make Avernum different from any adventure out there.
Dozens of side quests and hundreds of magical artifacts.
Rich game system with over 60 spells and battle disciplines and a multitude of beneficial character traits to choose from.
The story of Avernum 2 is self-contained, and previous experience with Avernum games isn't required.
(Download Avernum 2: Crystal Souls Demo v1.0.1 for Windows, 233.9 MB)

(The iPad version can be downloaded from Apple's iTunes Store.)

If you order using the form at the top of this page, you get both a full, DRM-free copy of Avernum 2: Crystal Souls and a Steam key. Avernum 2: Crystal Souls is also available for order on

Steam

,

GOG.com

, Apple's

App Store

and the

Humble Store

.
Reviews
"Definitely recommended!" - GearDiary
"All that is required is a love of those old school, deep dungeon diving experiences of the past – now made new again and ready to impress former players and a new generation alike. 4/5"
- Game Industry News
"Avernum 2: Crystal Souls is the latest in his fantastic line of turn-based RPGs." -True PC Gaming.com

Story:
The end has come. Years ago, your people were imprisoned in the underworld, doomed to end their lives in the darkness. Then that was not enough. Your captors have invaded your caves, determined to kill you all. They are winning the war.
All known lands are commanded by the Empire, the eternal power that controls the known world. Everyone who spoke out, who misbehaved, who didn't fit in was cast into the dark, volcanic pits of Avernum, far below the surface. There, these exiles survived, gained power, and struck back. They assassinated the lord of the Empire.

Now the Empire will have revenge. They have invaded Avernum, taking cave after cave, destroying your people. Your land needs a hero, and it needs it now. If you can't find a way to stop them, and soon, you are all doomed.
Windows/Macintosh System Requirements:
PC Running Windows XP or later or Macintosh running System 10.6 or later
Minimum 800 MHz processor. 1.6 GHz processor recommended.
Video card or processor with OpenGL support and 32 MB video RAM (64 MB recommended).
512 MB RAM, and 200 MB hard disk space.
1024x600 screen resolution with 32 bit color.